2013 CritelliLaw Summer Interns: Dylan Dinkla and Ian Marshall
Jul 20th, 2013 | By
critellilaw
| Category:
Anglo-American Scholar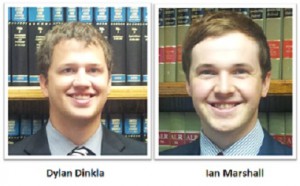 2013 Interns: Dylan Dinkla and Ian Marshall
This year we are proud to have two summer interns. From this side of the Atlantic we are proud to have Dylan Dinkla. Dylan is a 2L from Washburn Law University School of Law in Topeka, KS. Previously Dylan worked for the American Judicature Society. Dylan will be assisting us with field surveys, legal research and opinion drafting for our Ethics Opinions. Dylan would like to practice in a rural setting so we will be placing him with some of our rural affiliates so he can experience front line law.
From the other side of the 'pond' we are proud to have Ian Marshall. For over a quarter century we have been hosting pupils from the Bar of England and Wales. Twenty five years ago my Inn, the Middle Temple established the Anglo-American scholarship. The scholarship is open to newly called barristers who have an interest in American law and advocacy. This scholarship has been established to foster relationships between the Middle Temple and the United States of America. It is intended to enable a member of the Inn who is newly called, or about to be called, to observe the methods of practice in a fused legal profession. The successful candidate is attached to our chambers for about six weeks.
Ian Marshall is our twenty-fifth pupil from the Middle Temple. Ian is an impressive young man who received an honors degree from the University of Liverpool. While studying for the Bar he was awarded several scholarship including the Queen Mother Major Scholarship. (The Queen Mother was an active patron of our Inn.) Upon his return he will begin his pupillage with the HM Revenue and Customs as a tax barrister. While with us, Ian will be assisting with litigation strategic analysis and planning, mediations and advocacy as well as spending time at all levels of the state and federal court system.
When you are in Des Moines make it a point to stop in and meet Dylan and Ian. We're very proud of them. They represent the future of the legal profession on two contenients — and the future looks bright.