CritelliLaw: Who we are; What we are; Where we are!

We are constantly asked WHO are you; WHAT are you and WHERE are you. This brief video answers those questions and explains how this rather unique "bespoke" law form works. Not familiar with the term "bespoke" then you're probably from this side of the Atlantic. Bespoke is a British term meaning commissioned or made for a particular specification. Like bespoke medicine which tries to better fit treatment to the individual patient, bespoke law configures a specific legal team for each case.

[continue reading...]
Recent Posts
In case you have been wondering what we've been up to recently:
Requesting Presentations & Webinars

At CritelliLaw we believe in putting back into our profession, and are frequently called to give presentations at various CLE or CPD events in person or online. A calendar of our next 90 days worth of already-scheduled speaking engagements can be found in the right hand column of this website. Topics we are frequently called to speak upon include: law & technology, international law and practice, legal ethics, marketing, trial/litigation, international child abduction and fraud. Other topics are available on an as-needed basis.

Feel free to contact us for more information if you are interested in having us speak at one of your events, be it live or via the 'net.

New Ethics Opinions: 17-01 When Lawyers Change Firms; 17-02 Partner as Public Officer
Friday, April 28, 2017 Today we issue two new ethics opinions.  Opinion 17-01 When Lawyers Change Law Firms: Guidelines for Lawyers, Their Existing Law Firms, and Potential Future Law Firms.  Opinion 17-02 When a Law Partner olds Public Office:  Guidelines for the Conduct of Lawyers and their Law Firms When a Partner Holds […]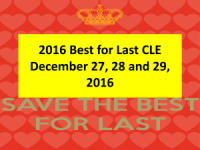 2016 Best for Last CLE Webinar
Thanks for attending the 2016 Best for Last CLE Webinar in December 2016.  You will need the following activity numbers for your CLE report which is due March 10th: Each day has a separate activity number :   12-27   #250476 12-28   #250442 12-29   #250477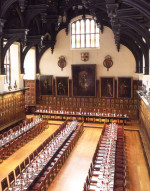 Nick Critelli called to the Bench of the Middle Temple
Nick Critelli of Des Moines,  an English Barrister,   has become the first practicing American lawyer since 1919  to be designated a  Master of the Bench of  the Middle Temple Inn of Court.  Barristers are admitted to the practice of law by  their Inn of Court , which is also responsible for their training and […]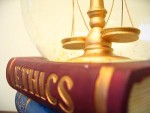 New Five Minute Ethics Video "The importance of Talent"
Congratulations! You've graduated from Law School, passed the Bar Examination and now you're a real lawyer. But no one has taught you how to practice law. Now what are you going to do? CritelliLaw will help. Nick has recorded a series of videos called "Five Minute Ethics." Log on, watch and give us your feedback. Remember if you need help, call us.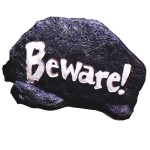 The Fictitious Client Scam
During the Iowa State Bar Association's annual meeting, it was learned that once again Iowa lawyers are being targeted by fraudsters. As a follow-up to the explanation provided to the attendees, we are reposting a previous summary of the fraud and how it takes place.
2/17/11: EVEN IN IOWA: Legal Issues of Human Trafficking and International Abduction & How Professionals Can Address These Hidden But Prevalent Problems
Tre Critelli will be joining Legal Assistance Coordinator Patricia Hoff, U.S. Department of State/U.S. Central Authority for the Hague Convention on the Civil Aspects of International Child Abduction and immigration attorney Kathryn Salazar in a state-wide panel presentation on Human Trafficking and Int'l Child Abduction over the ICN. Click on the header for more info.