UPDATE: Emily Johnson, 2014 CritelliLaw Middle Temple Pupil
Jan 15th, 2016 | By
critellilaw
| Category:
Anglo-American Scholar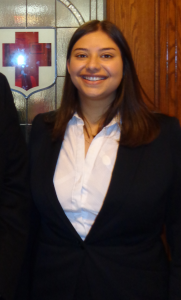 Emily Johnson
UPDATE:  Emily Johnson, our 2014 Middle Temple Anglo-American scholar is presesntly studying for the New York bar examination.  We offer any assistance we can and wish her good luck.
NOTE  to the Middle Temple:  We are not  trying to steal your best!!
___##___
We are proud to announce that Emily Johnson is the 2014 CritelliLaw Anglo American Scholar.  Emily was called to the English Bar in 2011 as a barrister by the Middle Temple.  He earned her law degree from the University of Birmingham and currently lives there.  She applied for and won the scholarship in 2014. Emily  has been here for six weeks and has participated in many mediations, meetings and aspects of American trial practice.  We are very impressed with her ability, particularly as it concerns comparative law analysis, legal research and strategic planning. On the personal side, she has met with many new lawyers and law students who have taken it on themselves to turn her into an American.  We've even noticed a change in her British accent and her eating habits. (Emily has "found" American chocolate malts). Unfortunately, just as she started to sound like us the pupillage ended and she had to go home. Emily is our 26th pupil in as many years.  The big secret:  We're the ones who actually benefit from the pupillage.